Our goal is to be responsive to the needs of our community and provide meaningful services that enhance the wellbeing of the individuals and whānau that we work with.
We do this by offering a range of services, programmes, and workshops. Our programmes are developed to meet the needs that exist in our community and we welcome your participation and support. We organise and arrange workshops and programmes throughout the year.
We welcome self-referrals or referrals from other services. Free services are offered to tamariki, rangatahi under 18 years, and adults with tamariki or rangatahi in their full- or part-time care.
We receive partial funding from the Ministry of Social Development and welcome any koha.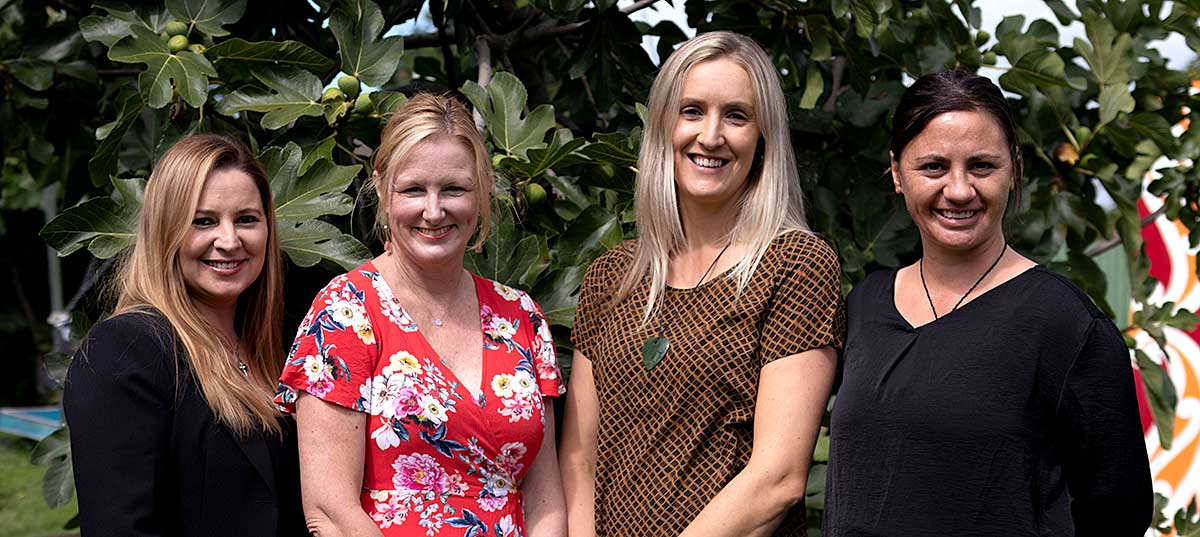 Nicola Dimery – Practice Manager, Nicole West – Growing Through Grief Coordinator, Rachel Norris – Counsellor, Katarina Rakuraku – Social Worker
Photo Credit – Tom McGregor
Our Community
Our centre is in Elgin in Gisborne, and we share our land with Waiapu Kids Te Hapara Whānau Aroha, an early childhood education centre, and another service of Anglican Care Waiapu.
We love visitors – come in and say kia ora, help yourself to free kai, and check out the information about other services and what is going on in our community. Our doors are open Monday to Friday 9am to 3.30pm, come in and say hello!
Anglican Care Waiapu
We are part of Anglican Care Waiapu (ACW), an organisation delivering a range of social services throughout Bay of Plenty, Eastland, and Hawke's Bay. You can find out more about ACW here.
Anglican Care Waiapu is committed to the wellbeing of tamariki and rangatahi and safeguarding them from harm or abuse. We take this commitment very seriously. Our Child Protection Policy is in line with the Vulnerable Children's Act 2014 and must be adhered to by all staff and volunteers.
You can read the policy here.